GYSPRESS 8T RIVET GUN KIT
An automatic air powered riveter ensuring your autobody shop is capable of repairing the growing number of vehicles requiring panel replacement with rivets including self-piercing rivets and standard flow form rivets.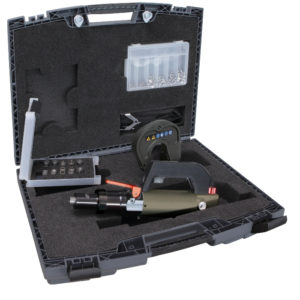 PRODUCT FEATURES
Maximum pressure of 8 tonnes with integrated pressure gauge.
Fast and easy arm change.
C-arm swivels 360° around the riveting machine axle.
Selection of arms available for difficult access situations.
Easy to use ergonomic handle and trigger.
Magnetic matrix makes rivet positioning easy.
Manually adjust the actuator speed and rivet pressure according to the metal used to avoid panel distortion.
Kit Contains
1 x GYSPRESS 8T riviting tool
1 x HR2 & 1 x HR3 arm kit
1 X standard die kit
Ready to find out more?
Call today 0409 386 544 or send us an email Download gyspress rivet gun brochure